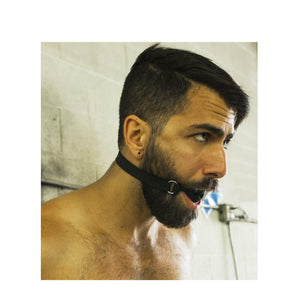 Male Stockroom Spotlight: Silicone Breathable Ball Gag
It's hard to improve on the face of a beautiful man kneeling before you, eager to serve your pleasure. Hard, but not impossible. Filling that pouting, hungry mouth with a classic ball gag is one way. It forces him to speak more than ever with his eyes; with the rubber forcing his lips apart and his tongue down, his only option is to offer his obedience by looking silently into your eyes and showing you how he longs for your command. The beauty of gags is how desire and surrender can become so much clearer when words aren't an option.
But although the classic ball gag is a simple thing, you want to be careful what you use. You want to keep that beautiful mouth in good shape, and most of all, you want him to keep breathing while you consider what else you're going to do. The Silicone Breathable Ball Gag has three holes drilled right through the center to let you sub breathe easily even when you've gotten into active play where he's thrashing and gasping.
In addition, we've made this out of food-grade silicone; not only is it soft, chewy, and kind to teeth, but it's easy to sanitize, allergy-free, and vegan. In short, everything you need to make you and your partner breathe a little better during a hot bondage scene.
Click here to buy Male Stockroom's Silicone Breathable Ball Gag!
---