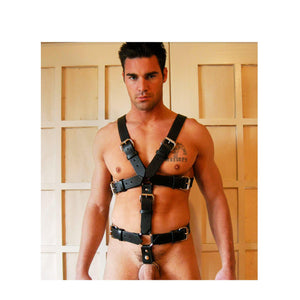 Male Stockroom Spotlight: Leather Torso Harness
There's just something about a man in a harness. The way the leather straps frame his body, tracing the curve and flex of his muscles — once you've seen that, or felt the straps gripping your own body, you have a gut-level understanding of what made harnesses such a fundamental component of Leather culture. They not only look and feel sexy, but they're extremely practical during a hot scene. Doms and subs alike show who they are by strapping on a harness that fits their body and their place in the dungeon.
When we make harnesses, we're thinking about all that history and meaning. It infuses everything we do from the first design layout to putting it together in our shop. The Leather Torso Harness is a beautiful demonstration of our inspiration and care for our work: It embraces the entire upper body with 7 leather straps, each 1 ½" across and fitted with 8 buckles and 4 O-rings to accommodate whatever restraints you choose to keep the boy in his place. A shorter 8th strap connects the waistband to a removable cock ring. (We give you a 2" stainless steel ring, but you can take it off and replace it with whatever ring feels right on your cock.)
All of those straps and buckles make the Leather Torso Harness extremely versatile and extremely hot; you can shape and fit it to your body. Once everything's in place, the result is a powerful, masculine style that shows the submissive's availability to serve Sir any pleasure He needs.  You could hardly ask for a better all-purpose bondage harness.
Click here to buy Male Stockroom's Leather Torso Harness!
---